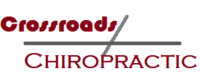 3445 Poplar Avenue, Suite 18
Memphis, TN. 38111
Phone: 901-327-1551
If you're experiencing neck and back pain relating to sports, automobile, or other injuries and believe you need a Chiropractor, visit Crossroads Chiropractic.
Treats: Neck Pain, Back Pain, Leg Pain, Arm Pain, Numbness, Headaches, Automobile Accident Related Injuries, Work Related Injuries, Sports Related Injuries.